Published illustrations, drawings and renderings.
The Rocket Company book -
Cover renderings and chapter illustrations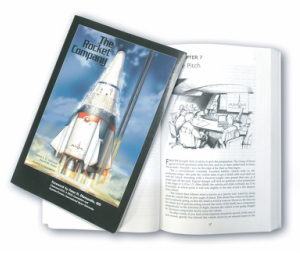 The Rocket Company is a novel rooted in hard science and engineering. Published by the AIAA (American Institute of Aeronautics and Astronautics), it is about the formation of a private company devoted to the creation of a fully reusable space vehicle. I worked closely with the two authors on key aspects and details to make the illustrations very authentic.

In addition to the cover rendering and two color illustrations, each chapter includes a pencil drawing that covers the chapter topic and engages the reader visually.
---
Book Review by John Walker, founder of Autodesk, Inc. and co-author of AutoCAD, in his Reading List recommendations on the
Fourmilab Change Log
: "The illustrations by Doug Birkholz are superb".
Article from The Space Review -
The Men of The Rocket Company
, interviewer Mark Trulson: "compliments to Doug Birkholz; he did a wonderful job with the various illustrations and cover art for the book."